The C type Concept II Rower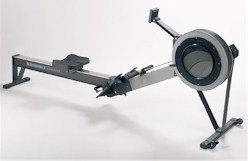 This rower succeeded the B – Type and proved to be an extremely versatile and reliable rower by all the top high street health club chains.  The functionality is second to non and the build standard is excellent.
We offer refurbished (CPO – certified pre-owned) C type rowers for the sum of £725.00 plus VAT. We include a 12 month warranty on all parts.
The Model D delivers proven performance and fitness benefits. Introduced in 2003, the Model D can be found in homes, health clubs, schools and training rooms around the globe. In August 2006, we redesigned the framelock and footstretchers for easier separation and a cleaner look.
Model D Rower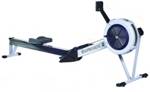 The Model D comes with either the PM3 Performance Monitor or the PM4 Performance Monitor. A LogCard is included with both. In addition, the PM4 monitor includes a Suunto brand chest belt for heart rate monitoring.
We offer these models for £825.00 plus VAT.   This price includes a 12 month warranty and all parts. Brand new I understand these are £1144.00 plus vat.
The Picture below features (from right to left, B type, C type, D Type and E type).
B type no longer available. C type only available as refurbished. D and E types available new only